CAGE 49 FIGHTWEEK!
26.11.2019


CAGE 49 FIGHTWEEK!
CAGE 49 Mixed Martial Arts event will be held on Saturday 30th of November at Helsinki Culture House starting at 18:00 EET.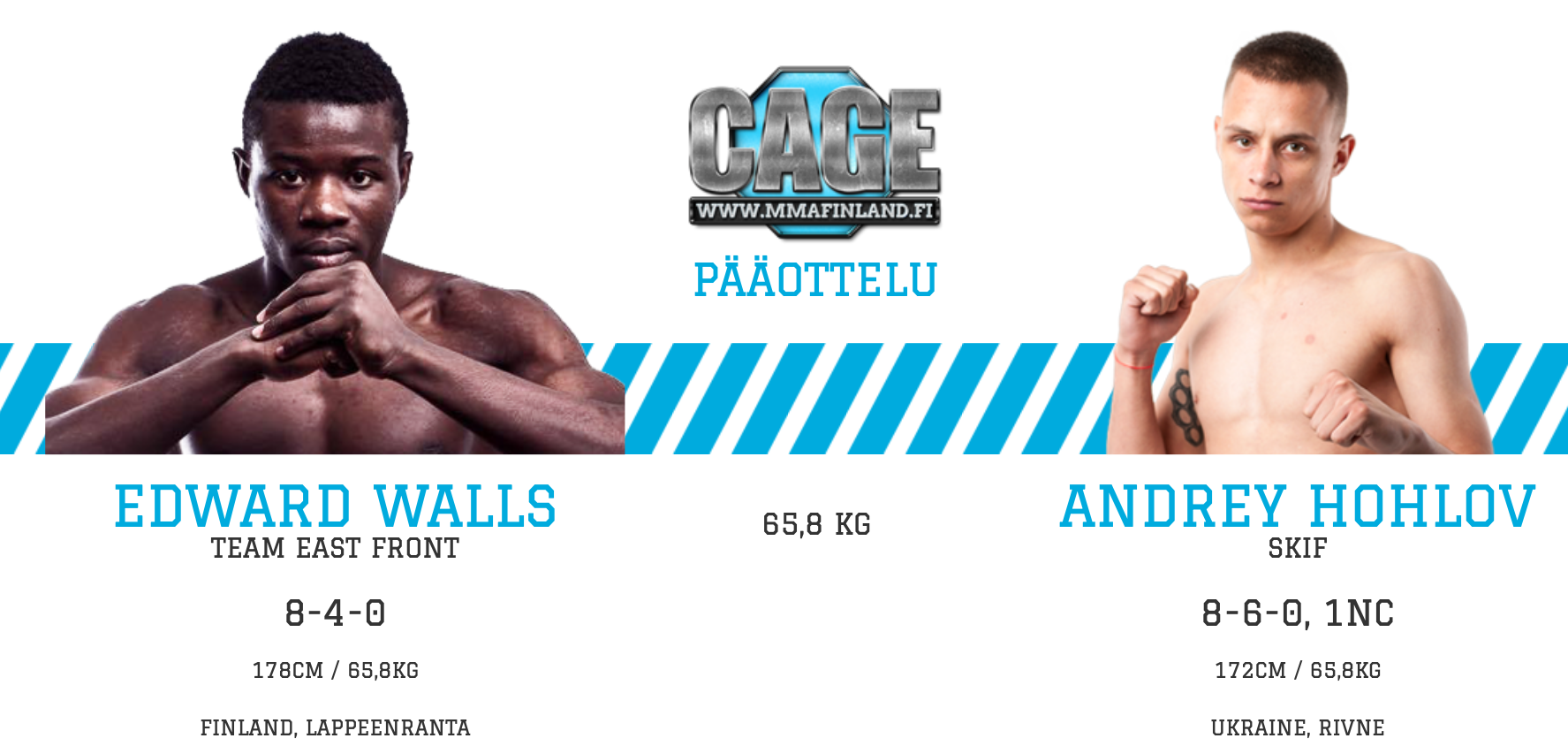 MAIN EVENT: Knockout virtuoso vs Combat sambo champion

Edward "Bad Teddiebear" Walls moved to Finland as refugee at the age of six escaping the horrors of the civil war of his then homeland Africa's Ivory Coast. Now a Finnish national, Walls has made himself known as one of Europe's most skilled young strikers leaving behind a highlight reel of flashy knockouts both by pin-point precise punches as well as action-movie like high-kick KO's. Walls is phenomenal in counter-striking and has extraordinary reflexes and speed.
Walls was originally supposed to face Spain's Zebenzui Ruiz, but Ruiz had to pull out of the fight. Multiple time combat sambo champion of Ukraine and the RFP promotions recent featherweight champion Andrey Hohlov now steps in to fight Walls in the main event.

Reborn Walls

The extremely gifted Walls faced over 2kg overweight opponents in his 2 last outings both resulting in split decision losses. Frustrated with the split losses, Walls has had to rethink his approach to fighting.

- I've had to go over the same thought process that UFC-fighter Jorge Masvidal recently shared: Why have I gotten these split decision losses? What do I have to do to end up on top on the judges scorecards ? The conclusion is: I simply have to start baptising my opponents by knockout. Then there'll be no more need for the scorecards.

The change of opponent doesn't worry Walls.

- Hohlov is stylistically very different from the original opponent, but this is not the first time this has happened. I really see no difference in where the next guy I have to knock out comes from. All I ask for are tough, high level opponents and I know I'll have to beat them all in order to get on top.
Click the image above and watch: CAGE 48 Main event Edward Walls vs Alexandre Ribeiro
Experienced Combat Sambo Champion

Fighting out of Rivne, Ukraine, the 21-year old Andrey Hohlov is a cardiomachine with a very aggressive and fast style of fighting. He striking is explosive and on-point and he enjoys wild stand-up exchanges, but also has effective wrestling and often manages to get his opponents on the ground where he has won many fights via ground and pound and submissions. In his last outing, a scheduled 5-round championship bout Hohlov was crowned featherweight champion of the RFP-promotion via rear naked choke in the first round.
- Walls is a very strong fighter and a tough challenge to anyone, but I trust my skills and am very happy to fight at such high level. May the best man win, states Hohlov.
Click the image and watch RFP Championship fight beggining at 2:45 :
Andrey Hohlov vs Narek Bahtavoryan

CO-MAIN EVENT: Multiple Times European BJJ Champion vs Champion of Georgia

In the co-main event of the evening, one of the brightest finnish MMA prospects, the multiple times European champion in brazilian jiu-jitsu Jesse Urholin, seeks to maintain his unblemished record in MMA and gain his 5th consecutive victory via stoppage. In Urholin's way stands the MMA champion of Georgia, Tamaz Bochorishvili, who also is riding an impressive win streak: 7 consecutive wins in the first round.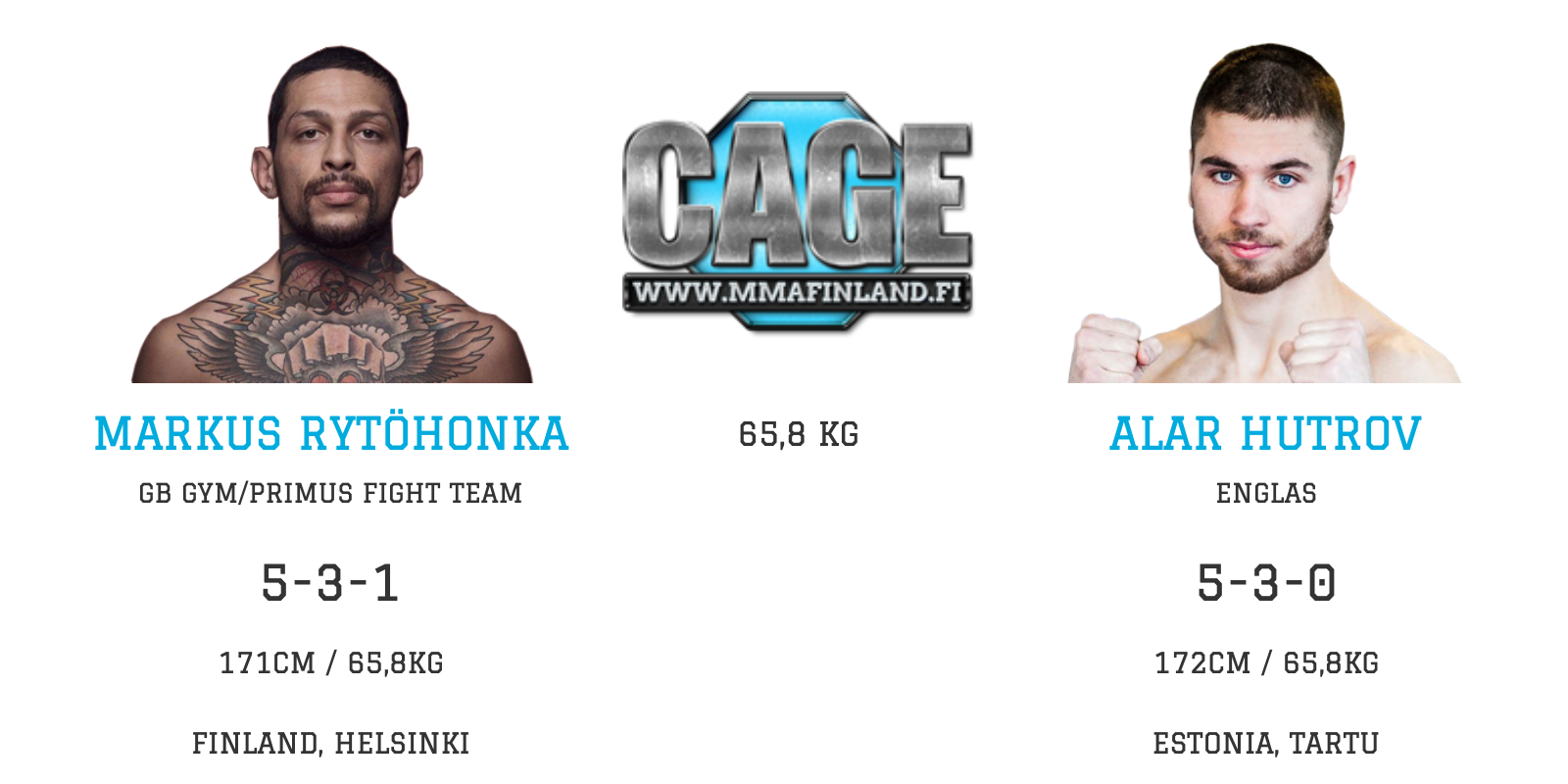 Aggressive Hunter vs Professional Soldier
The Finnish Colombian powerhouse Markus Rytöhonka hunts his opponents with punches reminiscient of sledge hammers both standing up and on the ground. Rytöhonka is able to generate significant power to his punches even when on his back. To test the unpredictable pressure fighting style of Rytöhonka arrives Estonian cardiomachine Alar Hutrov. Besides crisp punching and technical wrestling, the strong points of Hutrov are his will power and strength of mind. Hutrov holds a day job in the Estonian Military Services and has served as a peacekeeper in Afghanistan. This Estonian warrior has mental toughness that allow him to never stop.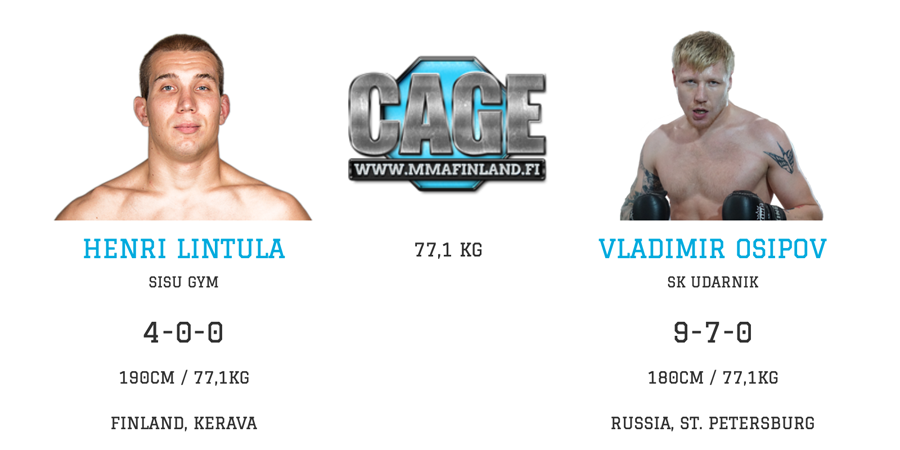 Undefeated BJJ Black Belt vs St. Petersburg Street Thug
Brazilian Jiu-Jitsu black belt Henri Lintula regularly spends time honing his skills in Thailand's respected Tiger Muay Thai Gym, home to many UFC-fighters. Undefeated Lintula has defeated all his opponents either by chokes or punches on the ground. Now he'll face Russian Vladimir Osipov who holds multiple knockouts in his record and has stated that the skills originate from a tough youth in the streets of St. Petersburg.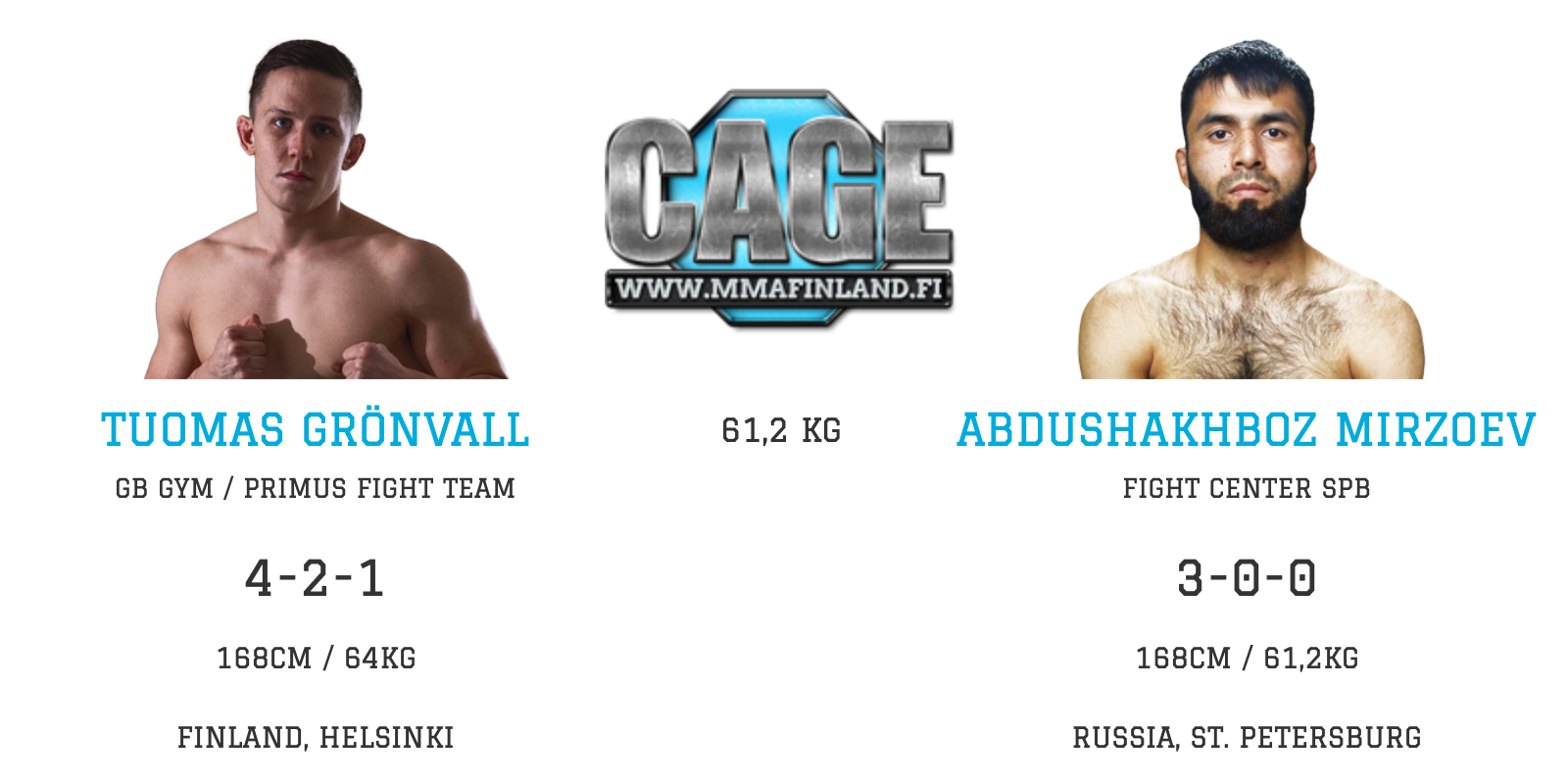 Choke-specialist vs Undefeated Tadzikistan Native
Strong as a bull grappling specialist Tuomas Grönvall will lock horns with undefeated power wrestler Shakhboz Mirzoev. Now fighting out of St. Petersburg, Russia, Mirzoev style is full of unpredictable & aggressive attacks. His previous fight was also in Finland against Karri Itkonen resulting a unanimous decision victory. Infamous for his effective chokes, Grönvall believes he'll get back to winning ways by choking out his opponent before the end of 3 rounds.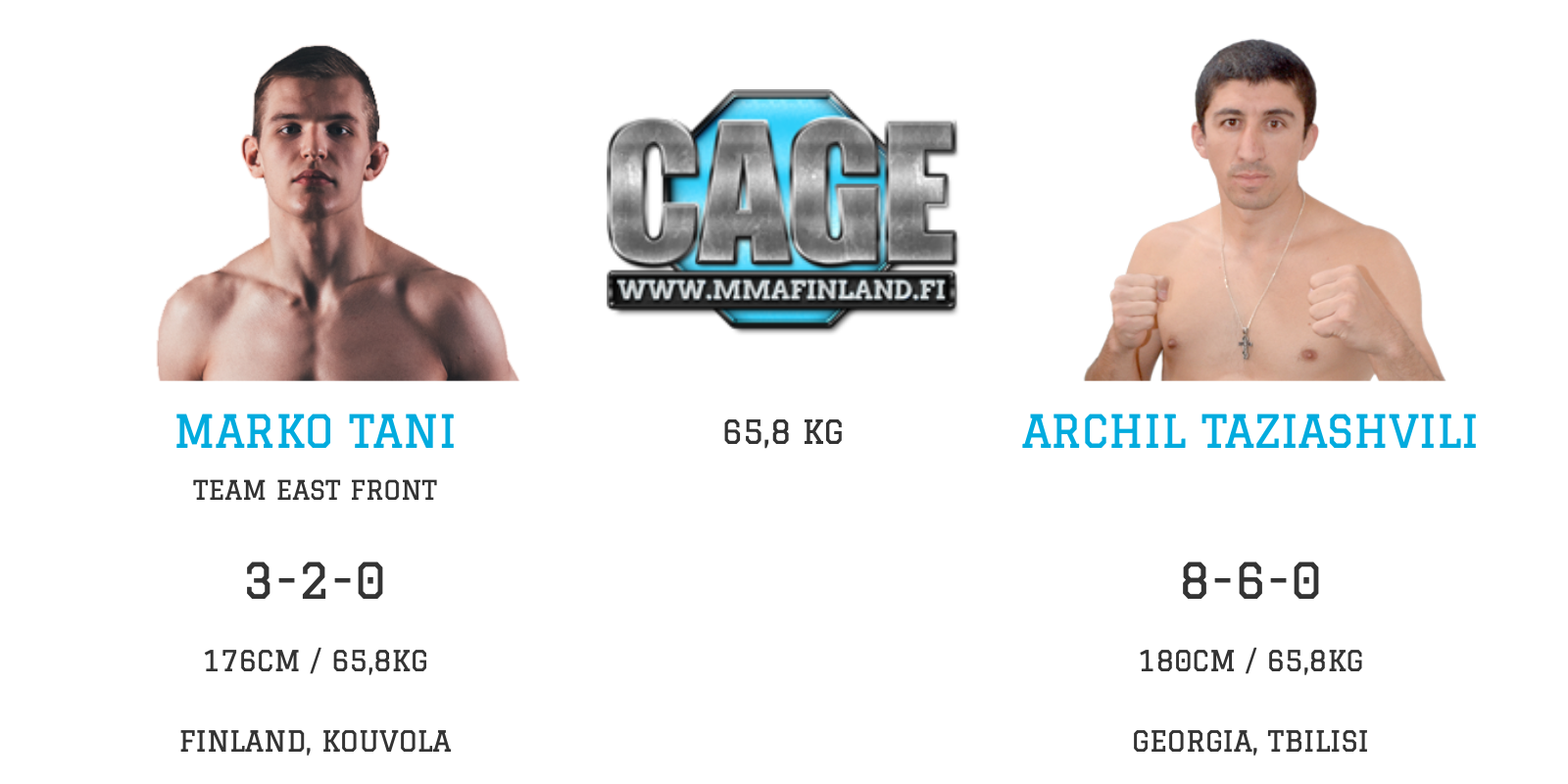 Powerhouse Wrestler vs Georgian Champion
Strong and well conditioned native of Kouvola, Finland Marko Tani faces Georgian MMA champion Archil Taziashvili. Both fighters are strong wrestlers with a tendency to take down their opponents. Taziashvili also feels at home in wild stand-up exchanges while the weapon of choice for Tani is jiu-jitsu.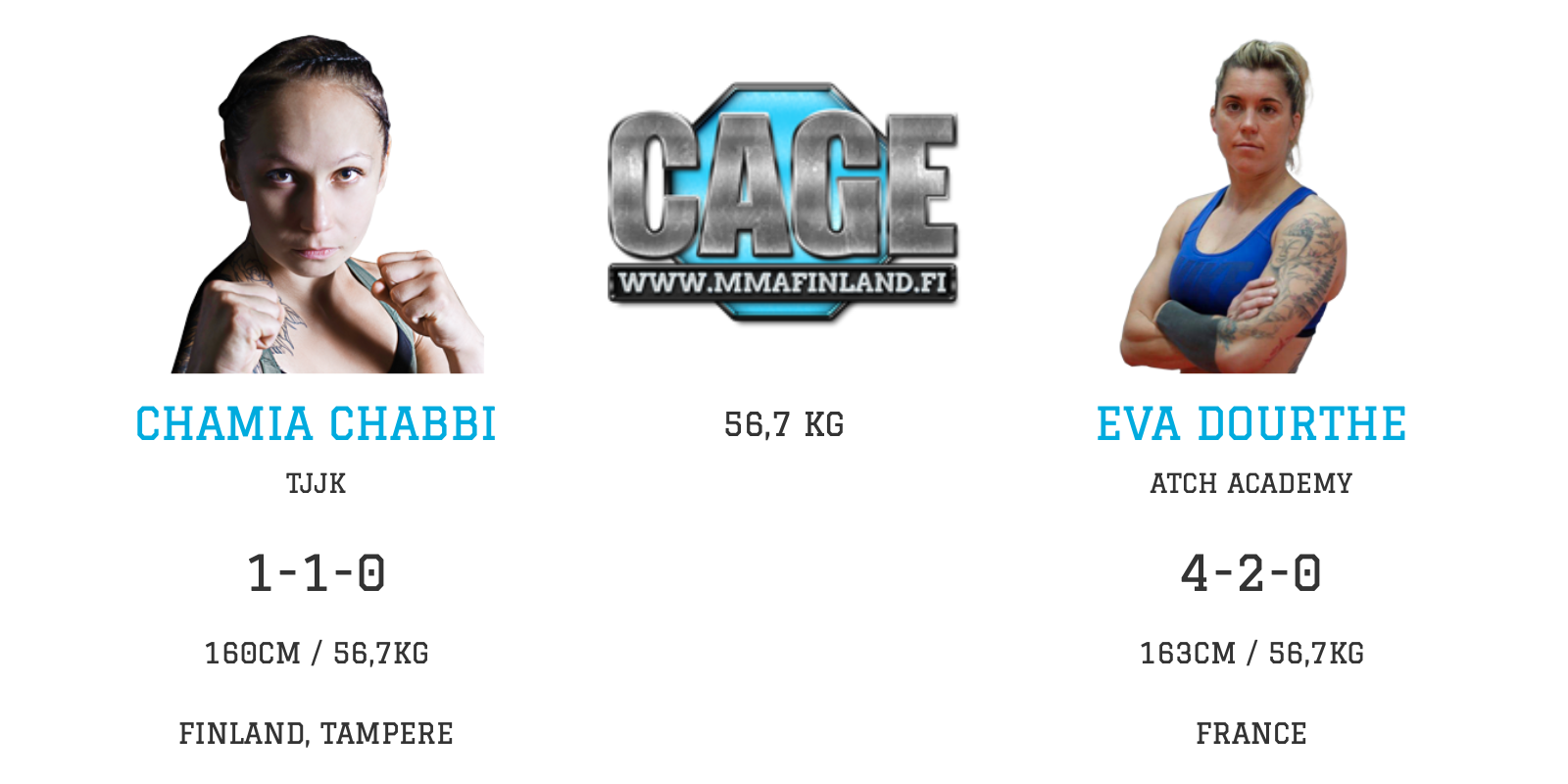 IMMAF World Silver Medalist vs European Beatdown Champion
The Finnish-Algerian International Mixed Martial Arts Federation (IMMAF) amateur world championship silver medalist Chamia Chabbi also holds European Champonships bronze and Finnish Championship gold before turning pro. In her CAGE-debut the strong-willed representative of Tampere, Finland faces French Eva Dourthe. While "The Chabbinator" is a striking specialist with a background in Taekwondo, Dourthe, who is the reigning European Beatdown champion has an extensive background in judo and rugby.